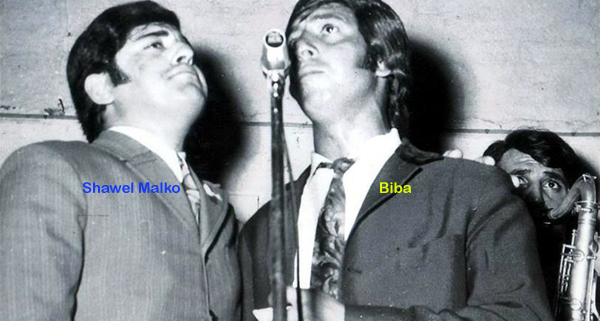 Compiled & written by Moneer Cherie.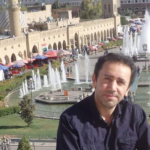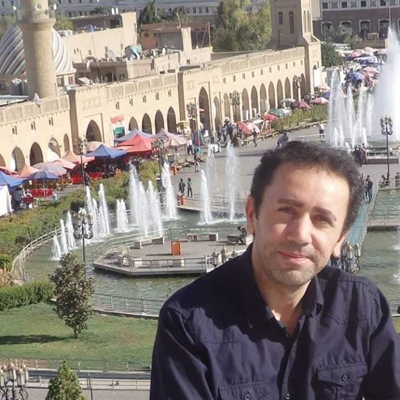 Bands in general are a small ensemble of musicians, mainly playing folk and pop songs, they usually consisted of a singer, drummer, Keyboard/organ, Guitar and Bass players.
I believe the earliest Assyrian "western instruments" bands were formed in the early 1940s in the city of Habbaniya, later on, when Assyrians dispersed all over Iraq, many bands formed in different cities including Kirkuk, Baghdad, Nuhadra, Nineveh, Basrah and anywhere which had a large Assyrian community.
During mid-1940s and until late 1950s there was a Music Band under the name of 'Assyrian School Band', the Band as well as the Dramatic Section were sponsored by the Assyrian School in Kirkuk. The Banjo music player and singer of the band sang in two languages Assyrian and Armenian, he was John Moses who used to entertain guests in some of the weddings and parties in Kirkuk.
Assyrian School Band consisted of these members: Shaul Khzeran, Emmanuel Marcus, Ablahad Lazar, Paul Marcus, Youaw Baijan, Edward Latchen, Samando Khzeran, Napoleon Lazar, Abe Babisha, Alfred David, Shaul Khzeran, Ashour Solomon, Waltin William.
Sources for information on this subject are limited to very few interviews, articles, social media and my personal collection. I tried my best to document or highlight early active bands in Iraq, The article is "work in progress", So please feel free to message me with any useful information, comments or pictures you may have on this subject? And your help will be appreciated and credited.
Writing about Assyrian bands in Iraq, is filled with many obstacles, for example Band's names may have remained the same but members were frequently replaced; Bands broke up, members joined other established bands or formed their own new bands, making it harder finding out all the musicians and singer's names for each band over the years, but I hope this would be a good introduction on this subject.
(Please note; the quality of audio in this article might not be perfect, as many of the cassettes that survived are in used condition):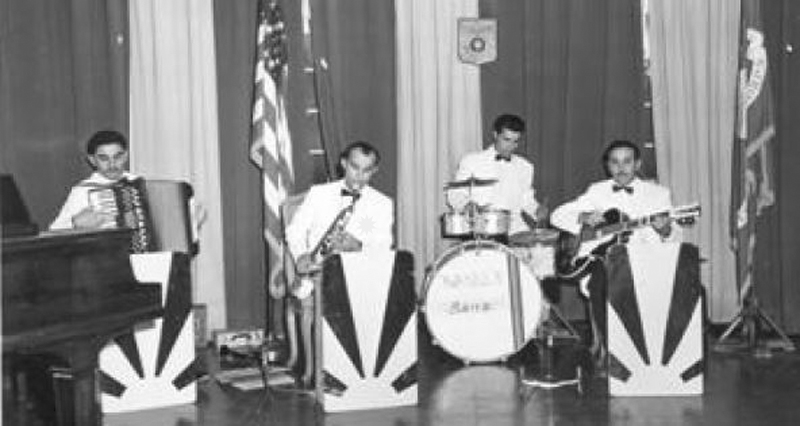 Arabella Band founded in Habbaniya, performing here in 1957 in Baghdad, at the US embassy, with first Assyrian Saxophone player Zacharia Odisho.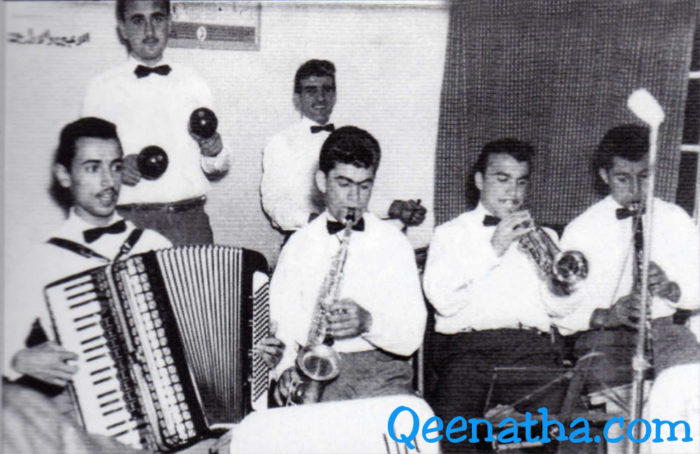 Assyrian Band in Kirkuk (1950s)
(L-R): Walten William, Yousif, Youel Khanania, Emmanuel Benyamin.
Back (L-R): Akshirash Kambar, Veresh Karaken.
Andalous Band – Kirkuk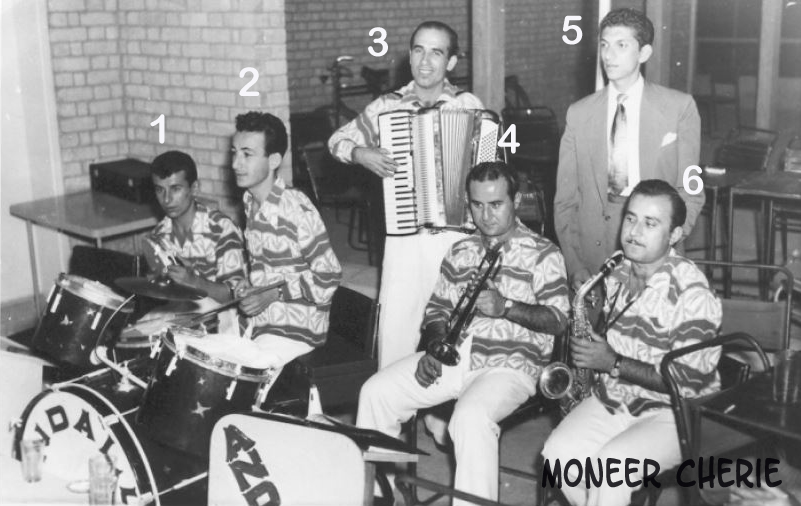 Photo dated to 1956
1- Warda Khio: Al-Daf (Raq)
2- Benyamin: Drum
3- William John: Accordion
4- Amanuel Markos: Trumpet
5- Henri Karam
6- Paul Markos: Saxophone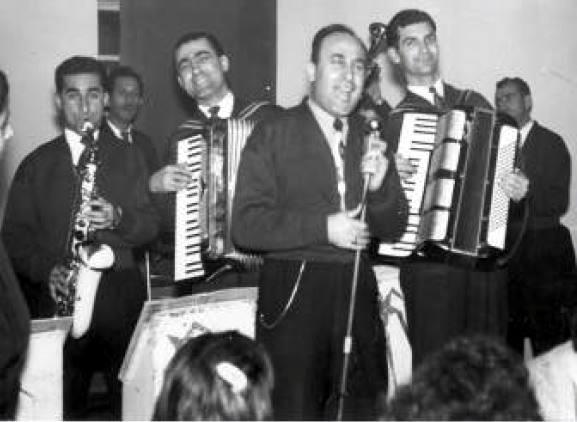 Photo dated to Mid-1960s:
William: Singing at a social party in Baghdad.
Saxophonist is his brother Wilson,
and accordionists are the late Babajan Yonan,
Avshalim Daniel (photo Ben Yalda).
The Tornadoes
The members of the Tornadoes Band changed:
Originally, they were 5 members:
William Kanoon Cheery: Lead Guitar (Band Leader),
Ben Eramia (Drums),
Wilson Hanna (Vocals),
Dimitri John (Rhythm Guitar)
Oraham Khoshaba (Bass Guitar).
Then Dimitri left the band and Wilson Hana reverted back to playing his instrument (Bass Guitar).
As well as vocals. Oraham Khoshaba became the rhythm guitarist.
Occasionally Johnson Youkhana used to join (the second band) playing the Organ and Accordion. Johnson Youkhana was a talented musician who played Trumpet, accordion, piano and organ.
Then in August 1969 and after graduating with a B.Sc. Degree in Mechanical Engineering from the Uni of Baghdad, William Kanoon, left Iraq for graduate studies in London. In 1973 William came to Australia and played with 2 groups for a few years before deciding he had enough.

At Dora Club 14.August.1968
William Kanoon Cheery on guitar
Wilson Ablakhad Shino on drums
Wilson Hana (vocals and bass guitar)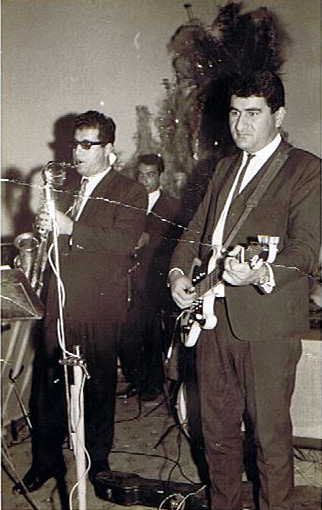 The Tornadoes: Performing at the University of Baghdad,
College of Engineering in 1968
From L to R:
Ben Eramia: Drums
Dimitri John: Rhythm Guitar
Wilson Hanna(vocals & bass guitar)
William Kanoon Cheery: Lead guitar
Oraham Khoshaba Gabriel: Bass Guitar
J. Jones Band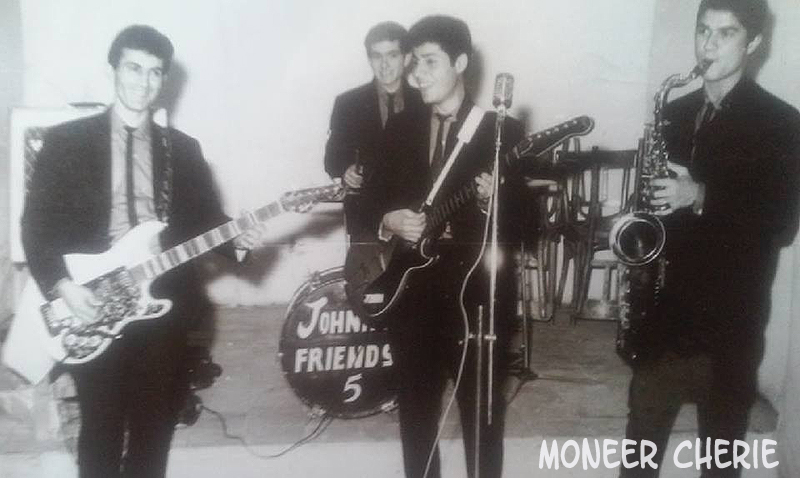 1. Jacob Aziz: Saxophone
2. Awesha: Guitar & Singer
3. Johnny abu Don: Guitar
4. Dawka: Drummer
J. Jones Band
Played on the first single record by Youaw Iskhaq, produced in Iran 1967, William Kanoon Cheery Played Guitar on record.
Shawel Malko with
Buzz Band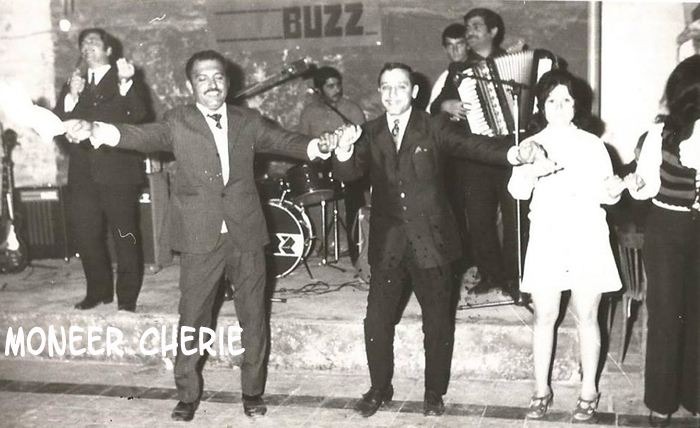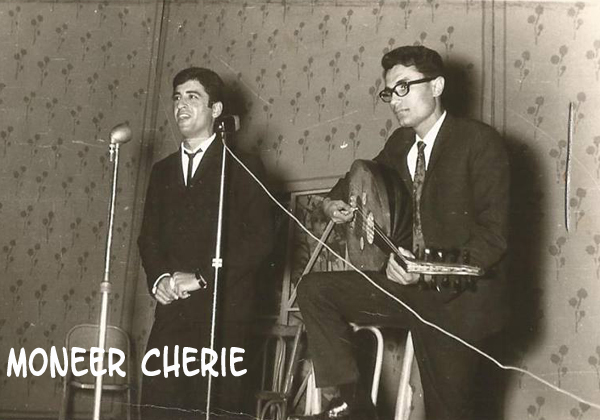 The Pals Band

– Awimalk Haidar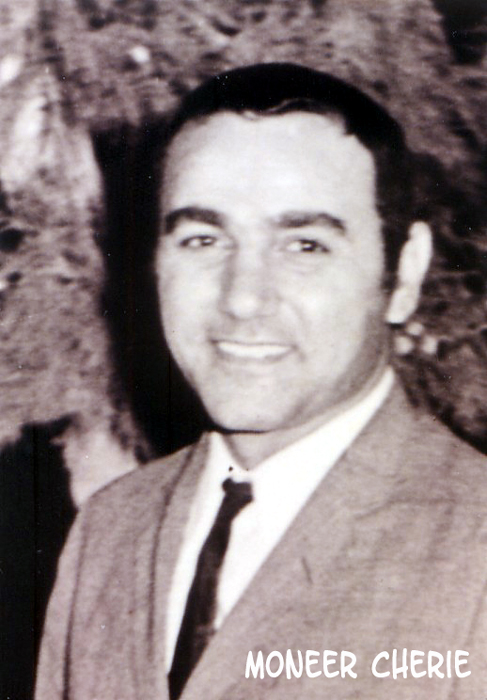 Awimalk Haidar: Singer and Musician, played with couple of band, his 2nd band was called "Pals Band", photo below, he also released vinyl records in Iraq on Caravan label with Diamond Band (info below)
Pals Band 1966 With Awimalk Haidar on Guitar (2nd from R), and Romeo Hanna on Bass (1st R)
Diamond Band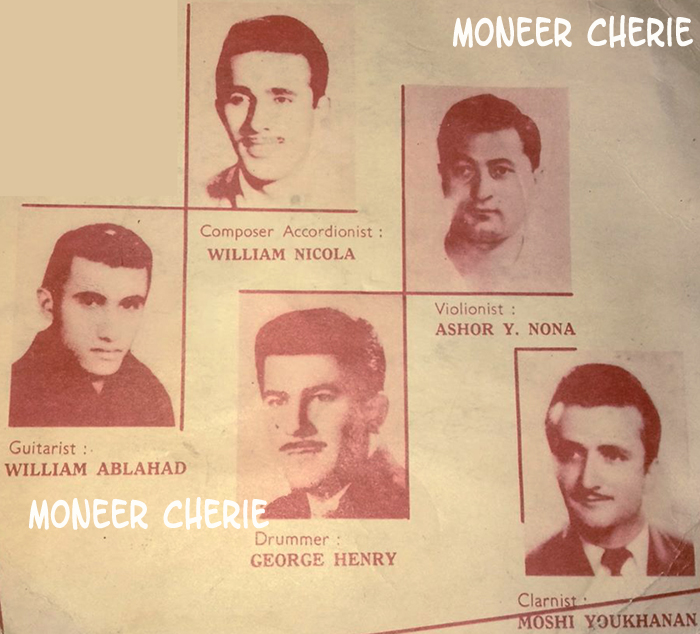 William Ablahad: Guitar
Ashor Y. Nona: Violin
Moshi Youkhannan: Clarinet
George Henry: Drums
William Nicola (Dinkha): Composer/Accordionist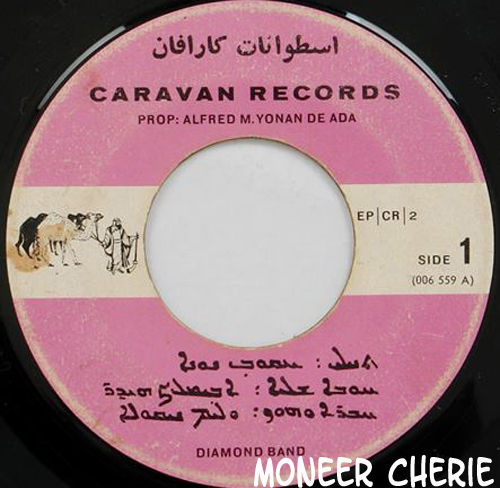 Awilamlek Haider Vinyl record released in Iraq with Diamond Band.
AKITU Band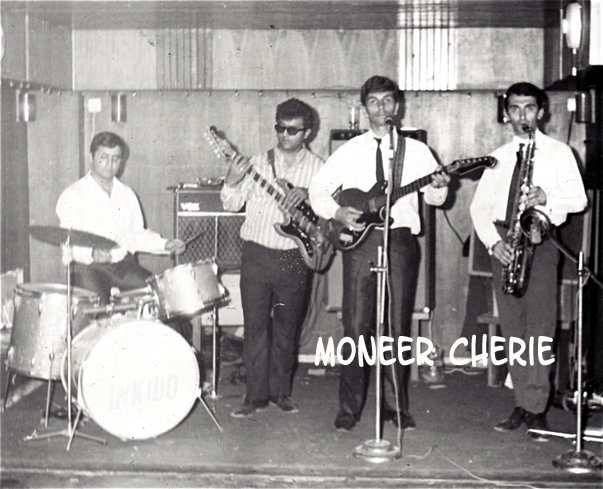 From Left:
Robert: Drums
Orahim:  Guitar
Ashur Bet Sargis: Guitar & Singer
Johnson Aghajan: Saxophone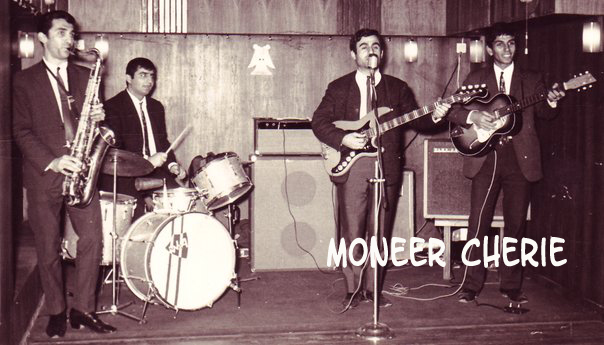 Another Akitu Band photo with Orahim on mic singing – Baghdad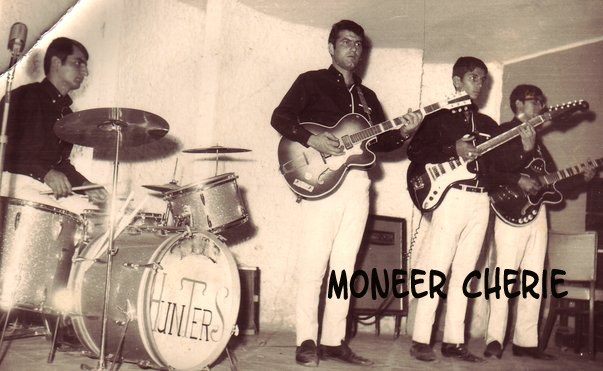 Photo of Ashur Bet Sargis with Hunters Band.
Bat Band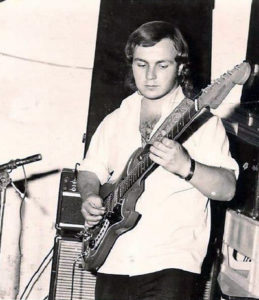 David Michael Canoon, original founder of Bat Band. Iraq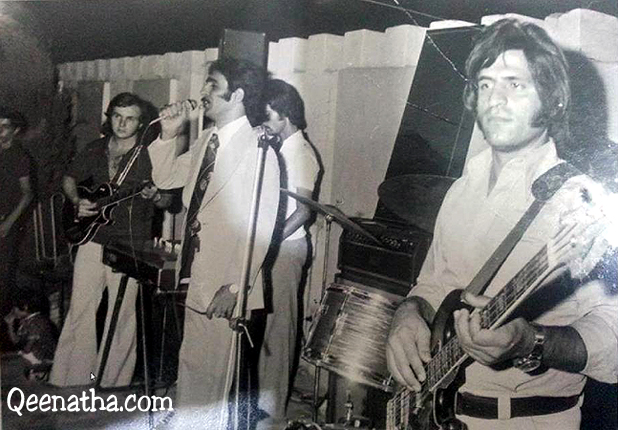 Bat Band with Sami Yaqo at Assyrian Sports Club in Dora-Baghdad 1974
David M.Canon: Guitar
Odisho Paul: Organ
Sami Yaqo: Singer
Sam Canon: Drums
Dawood Sargis: Bass
 
Singer David Esha with Bat Band at an Assyrian picnic in Baghdad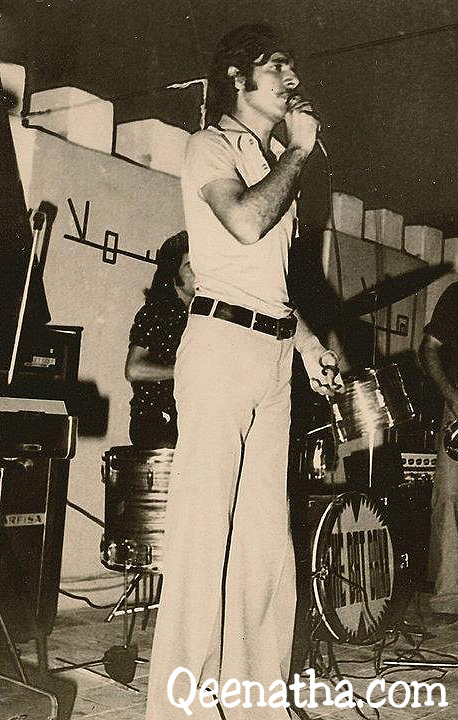 The Bat Band with Yousif (Oce) Rasho 1986 Baghdad
Oce Rasho: Singer
David Canoon: Guitar
Robert Canoon: Drums
Nabeel Khamo: Orgen
Zaya Youkhanna: Bass
Sang by: Oce Rasho with Bat Band, Iraq 1986 party.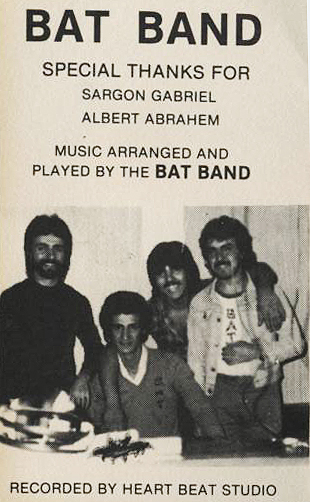 Bat Band: (US branch) released few studio albums in America with different band members, this is the 1982 cassette cover with:
Hikmat Tammo: Bass
Edward Notali: Keyboard
John Rustan: Guitar
Shimshon Michael: Drums
#1 – Yalkhto Beteh (Vocal: Edwar) produced in USA
Black Birds Band 1970-1972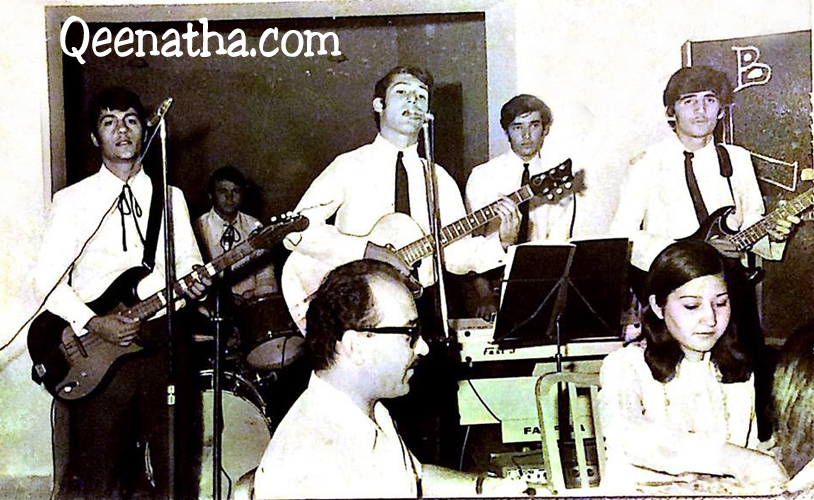 (photo taken in Sarsank – North Iraq)
David Esha: Singer
James: Guitar (right)
George M. Lawandow: Keyboard
Menas: Bass (left)
Hikmat: Drums
Los Bravos Band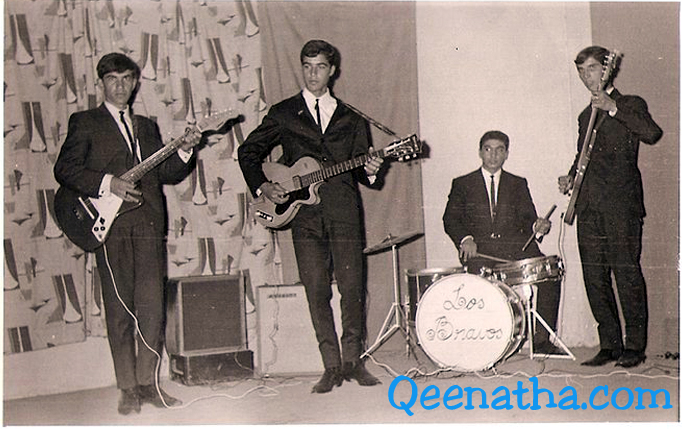 1967 Dora-Baghdad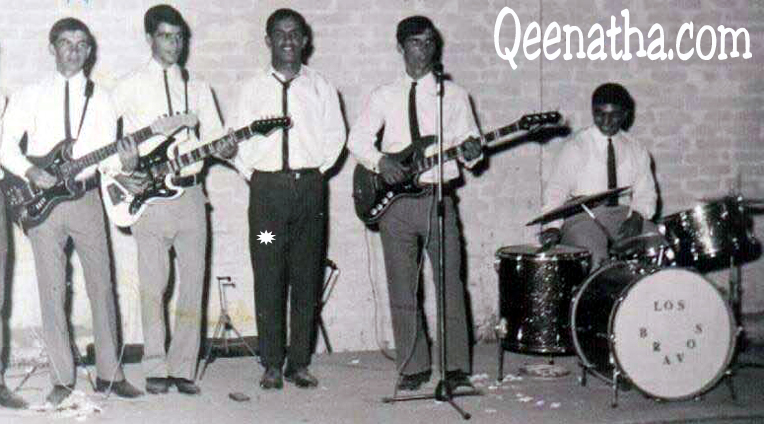 1968 Dora-Baghdad
Amo Simon: Guitar and Singer (with mic)
Rennie Daniel: Guitar (2nd from left)
Robin George: Bass
Donny George: Drums
The Dreamers
Assyrian Club in Kirkuk, the 70's
Alexander Yousif: Guitar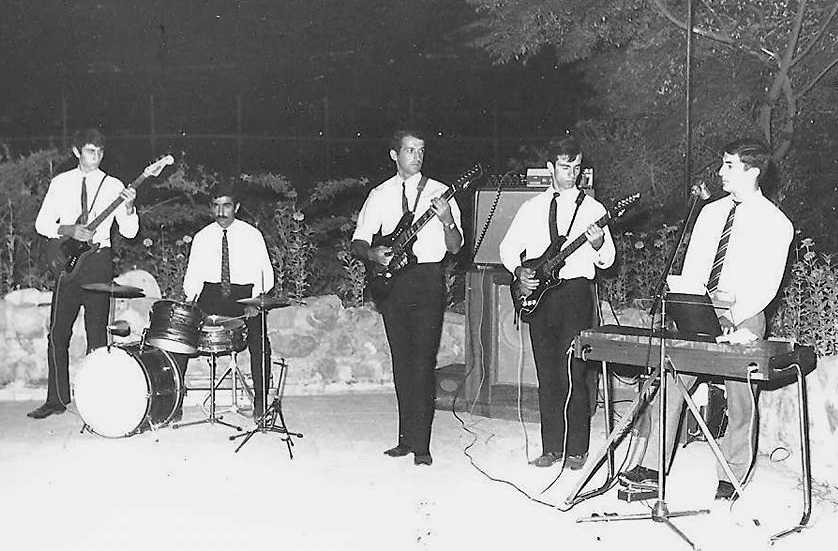 George Elias – Rose Band
His first band was named Rose Band in 1973 in Baghdad, they played at Ur Family club, with his sister Suaad Elias and the late Guitarist Oshan Chano.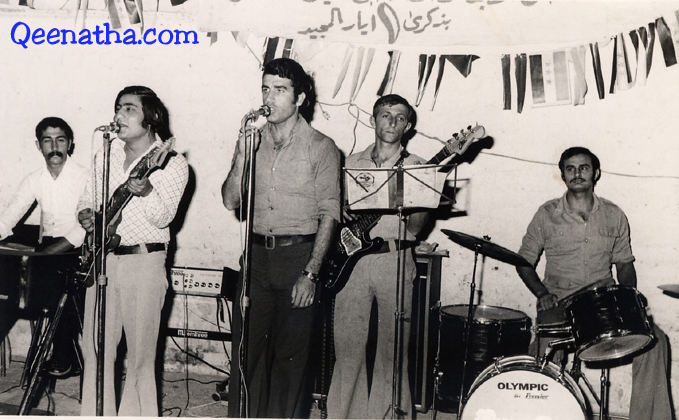 George Elias: Singer
Oshan Chano: Guitar & backup singer
Spiders Band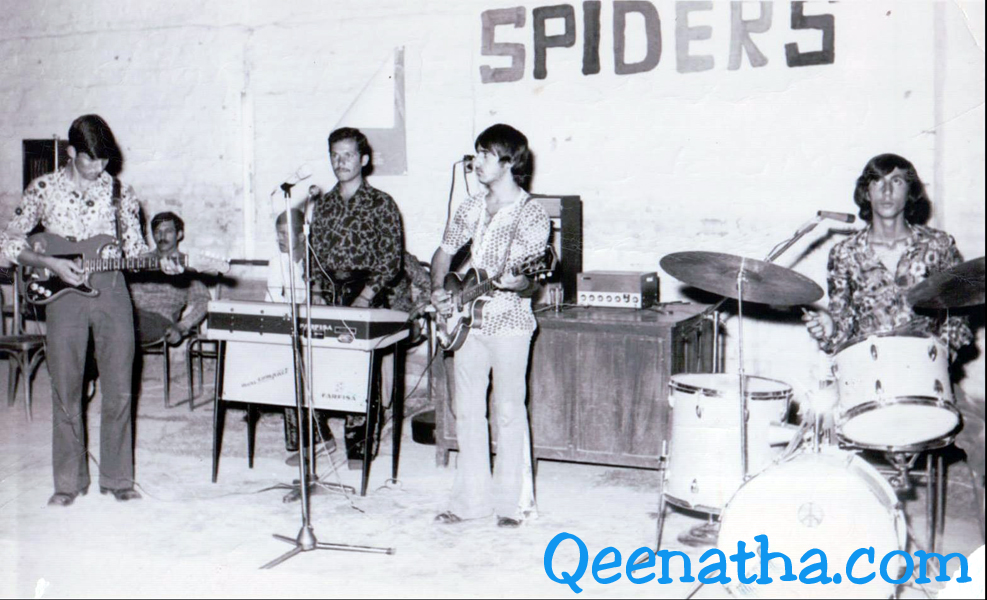 Albert Oscar Baba with Spiders band in Iraq

Albert Oscar on Guitar with Spiders band – Iraq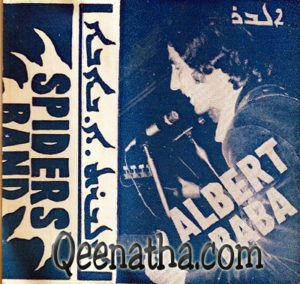 (Al-Barak) released tape by Albert Baba with Spiders band.
Josef Trio Band
The band was founded in 1963 in Erbil and the band members were:
Josef Khamo: Singer & Guitar
Jan Tomas: Drums
Chopin Israil: Bass Guitar
Jaleel: Keyboards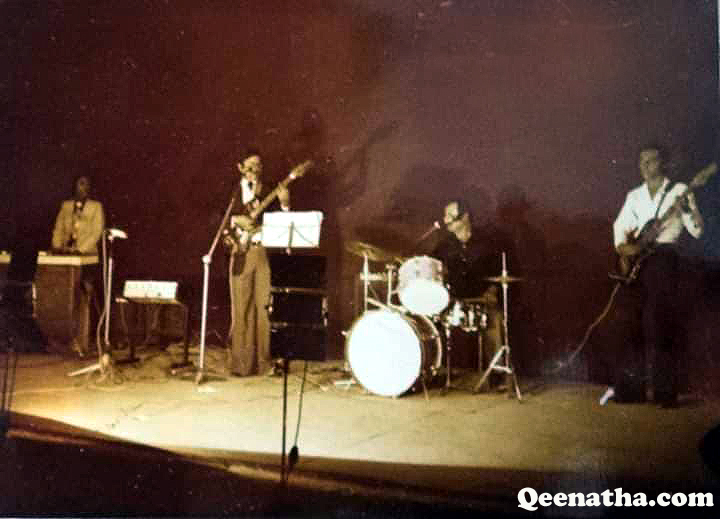 77 Band
Band was established in Baghdad in the early 70s and it remained till late 80's
Singer: Tony Andrews
Guitar & vocalist: Robert
Keyboard and backup vocals: Johni Younadim
Drums: James Younadim
Bass: Thaher
The band released an album with the late George Khamis in 1979 produced by Al-Baraq Music shop. album contained 11 tracks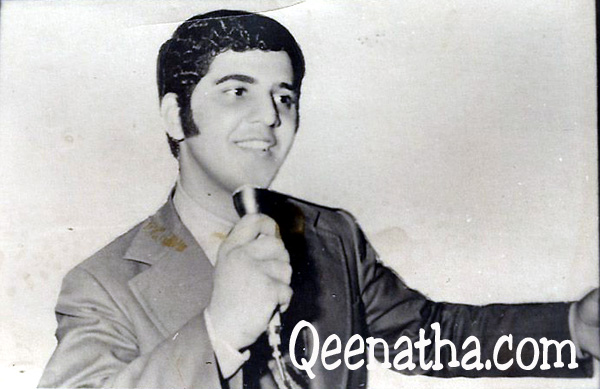 Reek Band ريك باند
This photo is of the band's singer Tony Andrews (arrow), this photo was taken in 1979 at the public Social club in Iraq, Tony is also the son of king Biba's brother, next to him in this picture is Robert on Guitar, this photo is actually of the (77 Band).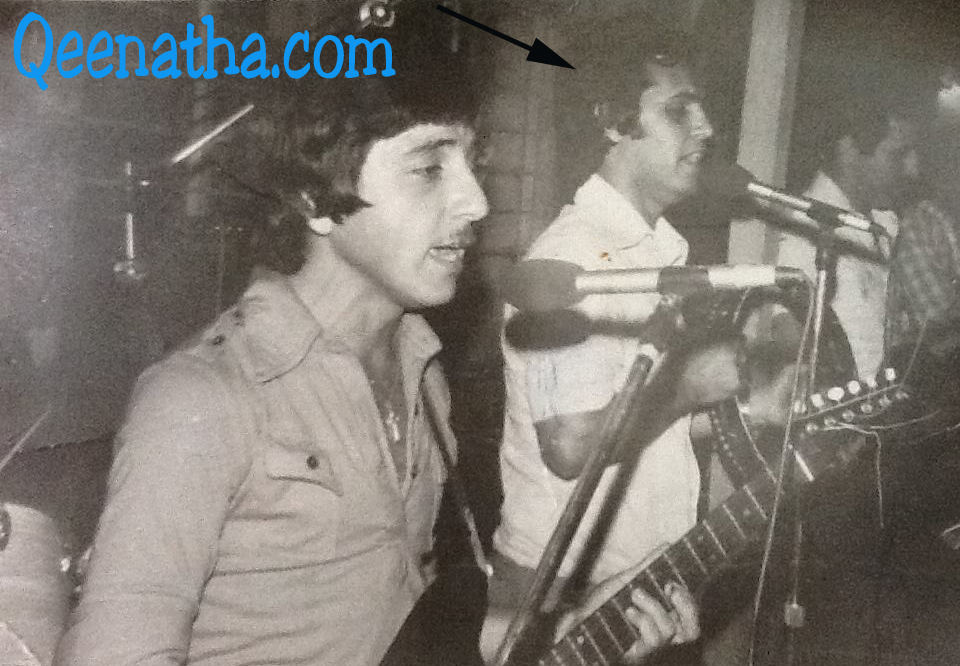 The Pilots band

The Pilots band was started in the early seventies with Sam Hanna on lead guitar, Youel Talia on Drums, Ara on Bass and Nahmir on the Organ. Later on Edmon Hanna joined the band playing lead guitar, Sam Hanna moved to playing the Bass, and Nadro Hanna also joined on rhythm guitar, and finally Giovanni (John) joined the band playing the Congo and Percussion.
Pilots Members were:
Nadro Hanna: Lead & Rhythm Guitar.
Edmond Hanna: Vocalist, Lead & Rhythm Guitar.
Sam Hanna: Bass & Lead Guitar.
Giovanni (John) Hanna: Drums & Percussion
Yoel Talia: Drums & Vocalist from 1971-1978.
Youel Talia (marked with yellow star), was the drum player and also singer, and later was member of Why-band. He released three albums, two in Assyrian and one in Arabic.
Season Band

Season Band, named by the people of Kirkuk. The singer of the band was Edmon Season, he begun singing in 1983 with band till 1990, but later moved to Baghdad and joined "We Boxer" band in till leaving Iraq in 1994
Season Band members in Kirkuk 1983:
Singer & Guitar: Edmon Season
Shmael: Drum
Fareed: Keyboards
WE Band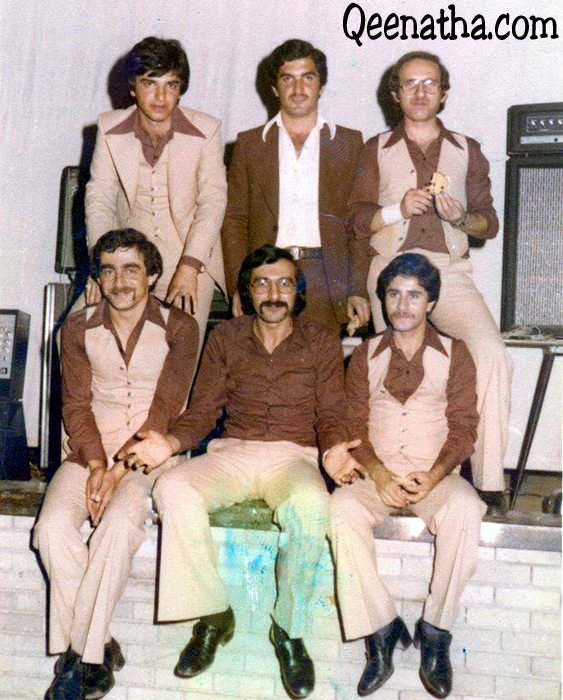 Early We-band members from the 1970s

Aprim Iskhaq Barwari: Organ
Robert Iskhaq Barwari: Guitar
David Santana: Drums
Salim Esho: Bass Guitar

One of the oldest bands, and was formed in Baghdad, This photo was taken in Baghdad with Ogin Bet-Samo on Guitar next to the keyboard player. (Photo taken at the Assyrian National club – Baghdad).
Band members in above photo:
Singer: Johnson Gabriel (seated)
Keyboard: Edwar William
Guitar: Ogin Bet Samo
Drums: Sargon Daniel
Bass: Youbert Yokhanna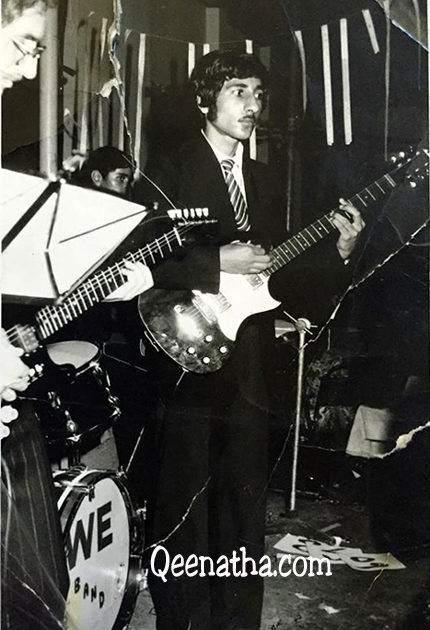 Ogin Bet Samo photo with We Band in Iraq, he was member from 1976 to 1979 (photo taken at New Year party in district-52 club)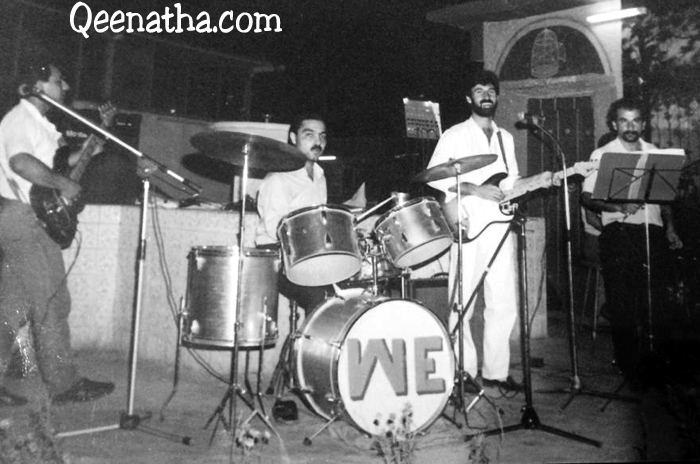 Photo taken in Mosul
Singer (R) with Mic: Laith
Guitar: Faris Esho
Drums: Sufyan
Bass: Salim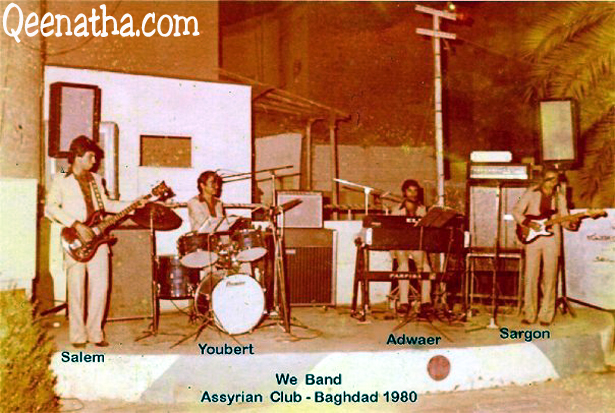 We Band in 1980 at Assyrian Sports Club in Dora Baghdad. with 1980s band members
Salem: Bass
Youbert: Drums
Adwar: Keyboards
Sargon: Guitar
We Boxer Band
Later, the remaining We band members joined Boxer-band and formed a new band called "We Boxer" band.
Released an album in 1984 in Iraq
Lyrics & Music: Edwar William
Singer: Edwar William
Musicians:
Edwar William: Organ, Violin, Bass
Napoleon Zia: Guitar
Salman (Sam) Shlimon: Drums
Also in 1993 We Boxer band released an album with Edmon Season as the singer (Cassette cover below):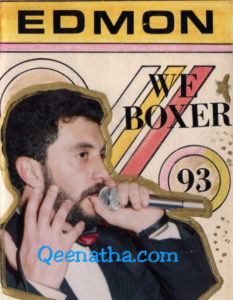 Heewi Band
Found in 1989 in Ankawa – Erbil, band members were:
Osama jameel: Singer & Keyboards
Woodman Darman: Singer & Guitar
Walten Darman: Bass Guitar
Bassam Jameel: Drums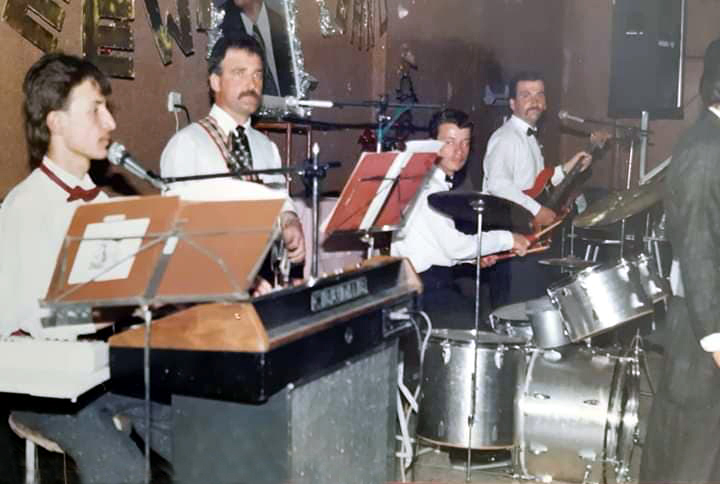 Shamiram Band

Emmanuel Bet Younan with Shamiram Band from Kirkuk, he formed the band in 1981. This picture was taken at the "nadi muazafin" in Ankawa – Erbil.
Singer: Emmanuel Bet Younan
Guitar: Albert Youkhana
Organ: Sabah Shimon
Drums: Alfred Youkhana
Bass: James Gabriel
Nahren Band

– Ankawa (Erbil)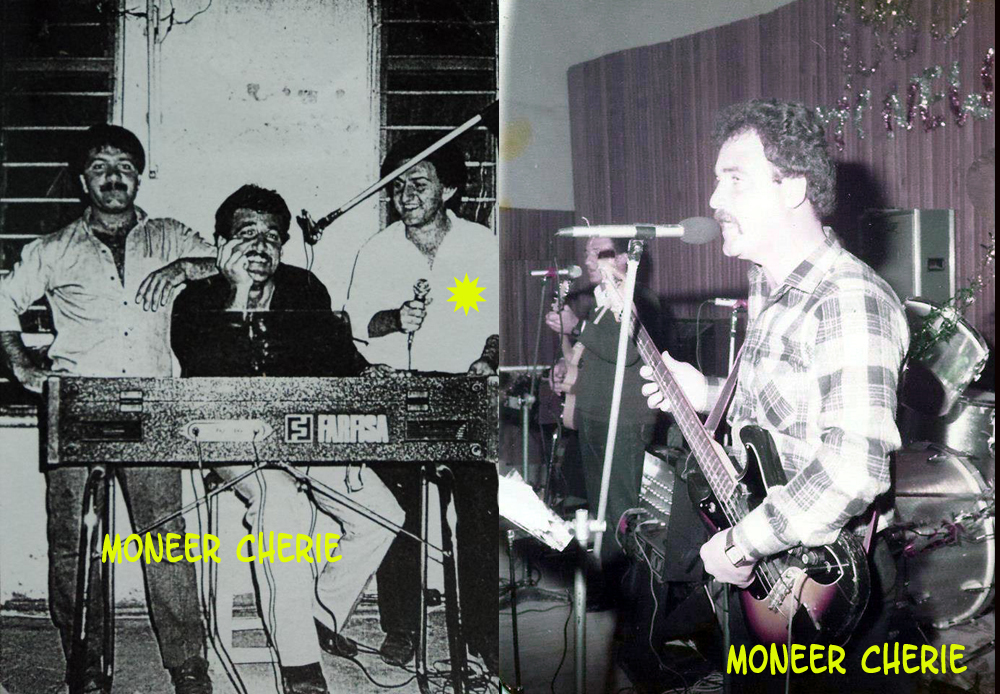 Nahren Band – Ankawa 1983
Singer & Guitar: Syrop (Aziz) Kanon (star)
Drummer: Ramzi
Bass Guitar: Woodman Darman (right pic)
Keyboards: Emmanuel
Sweet Band

One of the most known bands in the 1980's in Baghdad was SWEET BAND
From 1990 to 1992:
Salem Sefo: Singer
Joseph Isaac: Drums
Eisho George: Keyboards
Benjamin Isaac: Bass Guitar
The Band released a number of cassettes which featured Salem Sefo singing cover songs of Assyrian hit songs, with an amazing and talented band members including; Eisho George on Keyboards, the band won over the heart of Assyrians in Iraq and to this day their numerous parties are remembered fondly by their fans.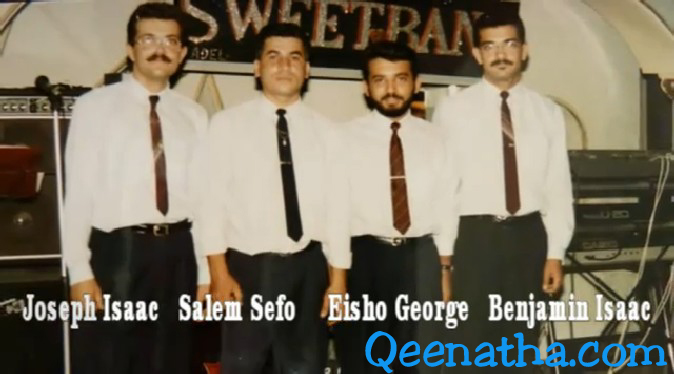 The band released a live Cassette of cover versions in 1993 in Iraq, this time the band singer was Zaya Zamara (in red), and album featured a female singer by the name of Fayrooz Francis. Keyboard players on this tape were Ebriss and Nisha. (Original tape cover on left).

From 1993
Zaya Zamara: Singer
Joseph Isaac: Drums
Ebriss & Nisha: Keyboards
Benjamin Isaac: Bass Guitar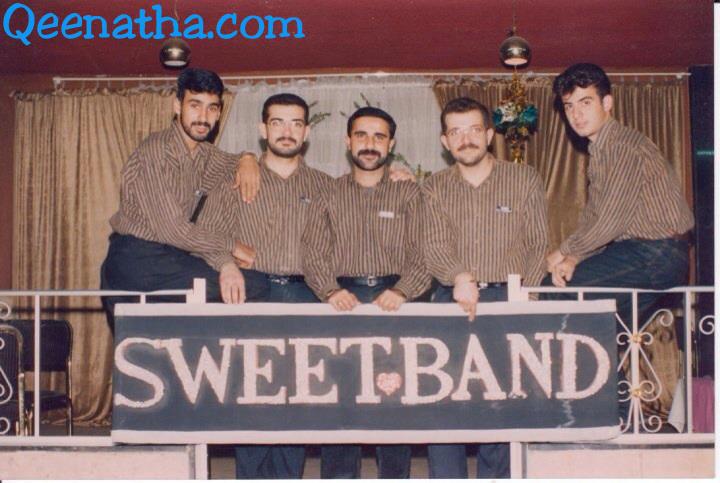 Bee Band (B-Band)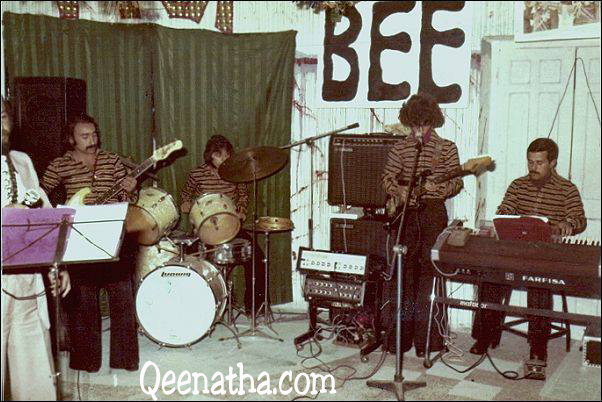 An old photo of Bee Band with the late Biba just visible on the left with microphone in hand, not sure of date or location.
Bee Band was formed in 1974 and it started performing at the "Syriac Speakers association" in Baghdad.  Band members were:
Romeal Shib: Bass
Wilson Younan: Singer
Natheer: Drums
Johnny Dinkha: Organ
Nazar Yousif: Solo Guitar
Then in 1978 they contracted to play at the "Assyrian Sport Club" in Garaj Amana – Baghdad. And few Musicians were replaced.
Romeal Shib: Bass
Wilson Younan: Singer/Keyboard
James Raman: Drums
Farosh Mike: Organ
Nazar Yousif: Solo Guitar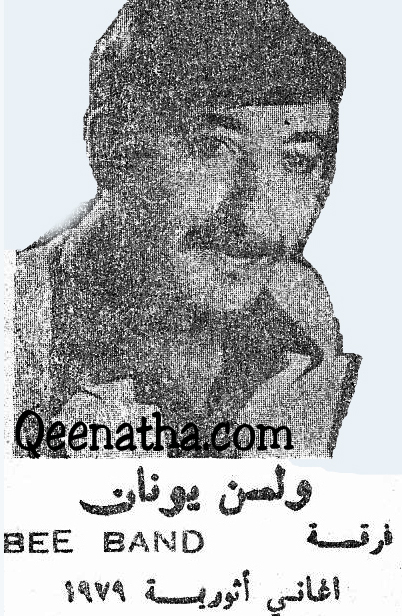 The Band released a Cassette in 1979 with vocal singer Wilson Younan in Iraq, containing these songs:
1. Khabra Samana
2. KheZyali B'Ayda
3. Yemi
4. Kmat Gashqan
5. Helane
6. Zona Kapora
7. Akh Min Donye
8. Akh Min Donye (2nd Version)
9. Kheshana
10. Qamodee Atkha
11. Jmeelan Moresha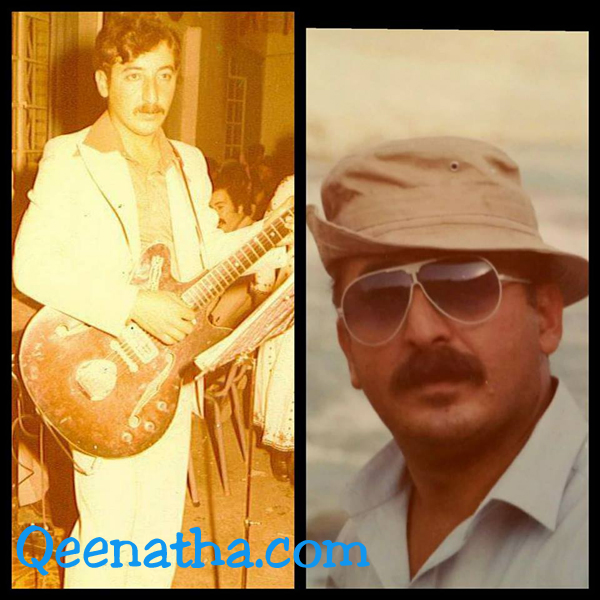 Wilson Younan: Guitar & Singer
Romeal Shiba: Bass Guitar
Johnny Dinkha: Keyboard
Muayed Marogel: Drums
Brothers Band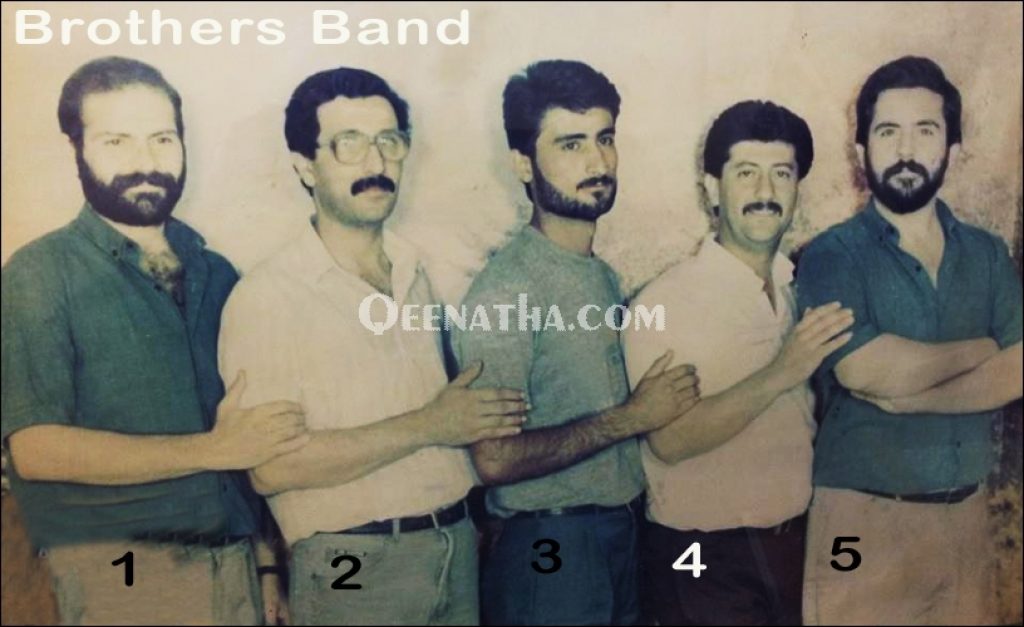 1. Sahir Edwar: Solo & Rhythm Guitar (album arranger)
2. Salam: Organ/Keyboards (album arranger)
3. Esmat: Drummer
4. Sargon Shimon: Singer
5. Wisam Edwar: Bass Guitar
Nuhadra Band 
Established in 1972 in Nuhadra (Duhok) was one of the main Assyrian bands in north Iraq, played at the Nuhadra club, one of their singers was the famed Janan Sawa,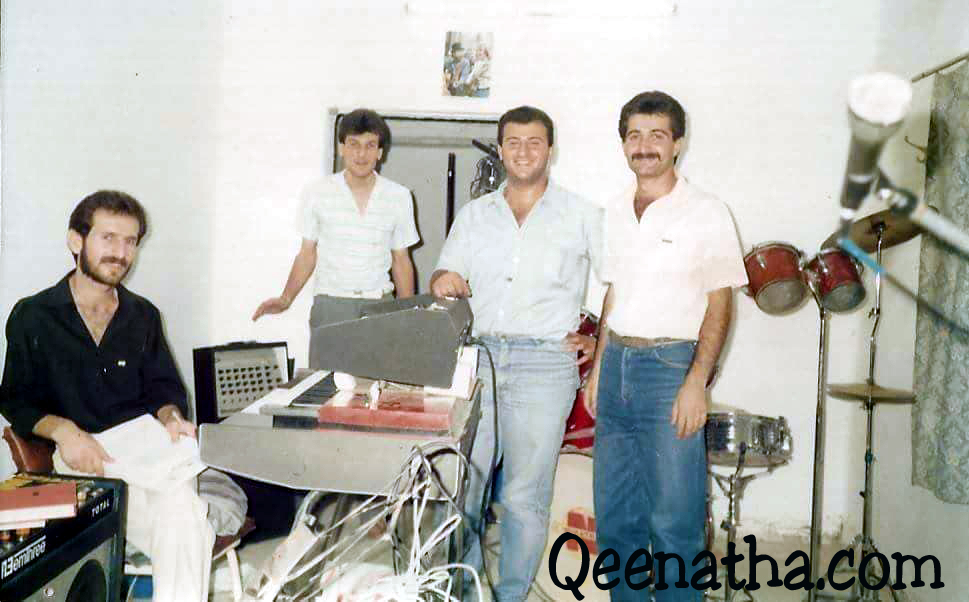 Bright Band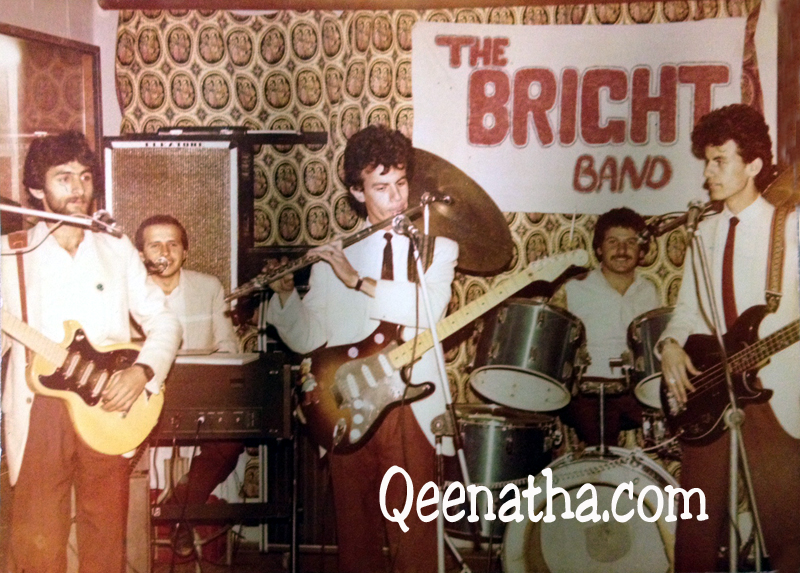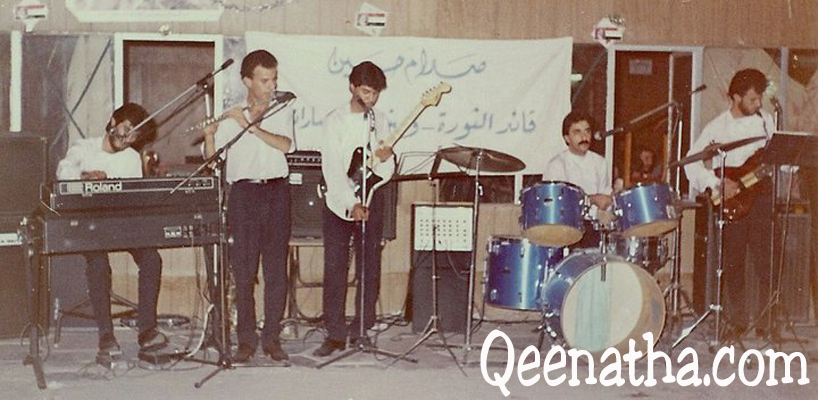 Khalid Bright: Flute, Saxophone
Sargon Bright: Guitar
Frank Bright: Singer
Douglas: Bass
Sunny Band
Edward Bet Younan: Drum
Sargon El Moreno: Guitar
Yousif Yalda: Bass
Younan: Keyboards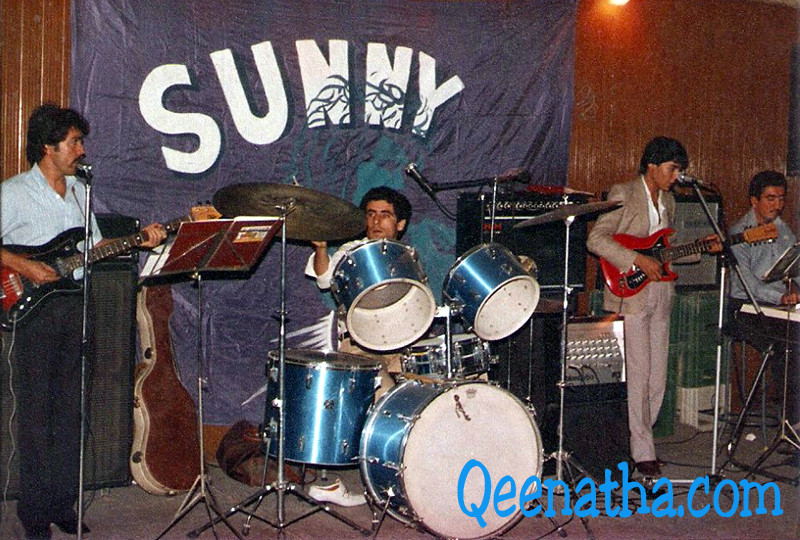 Pylon Band
This photo was taken in 1983, band members are:
Pylon band 1983 standing from left me
top L: Rafael
top R: Yousif Yalda
Yousip Kamal
Loay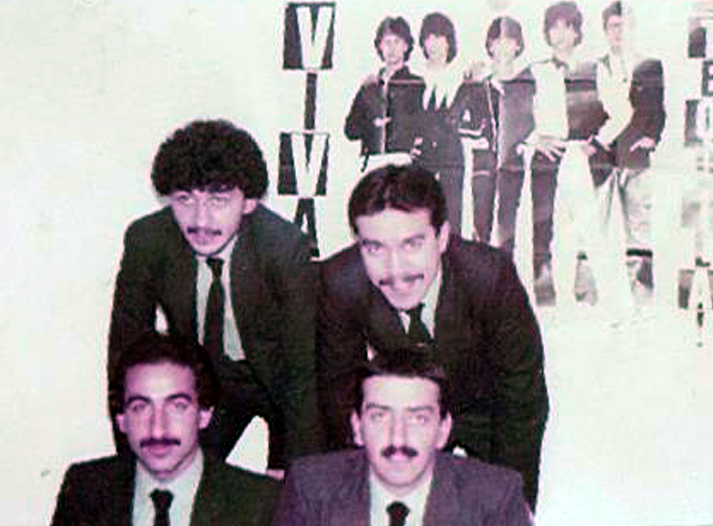 This photo was taken with Pylon Band members and Bright band members in Baghdad.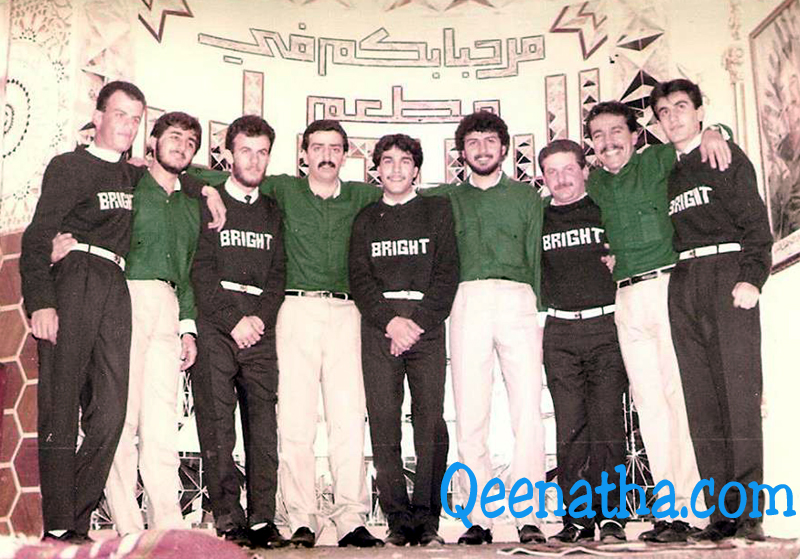 Nahrain Band (Ankawa)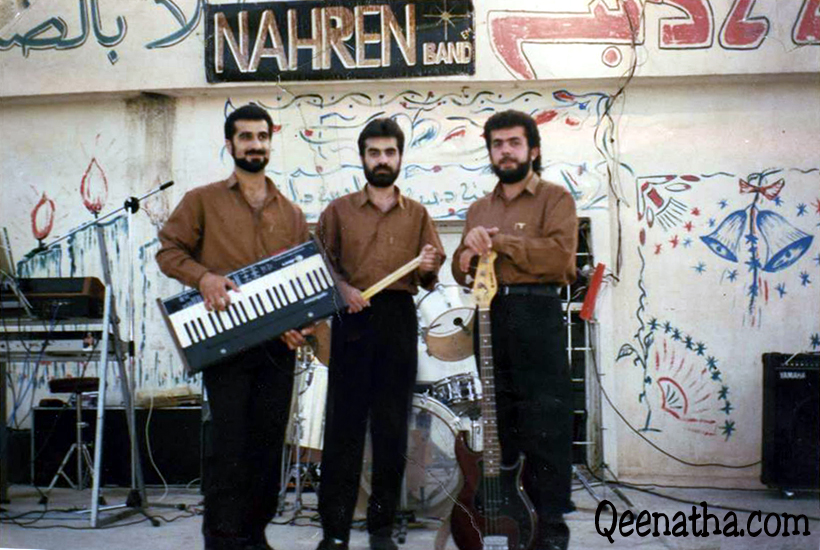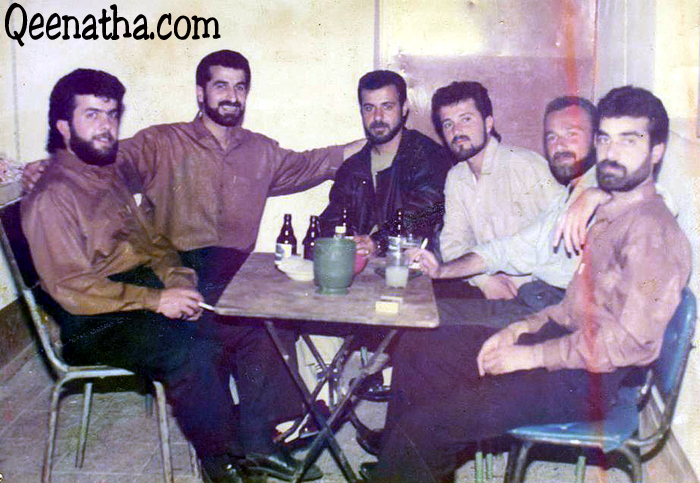 Snake Band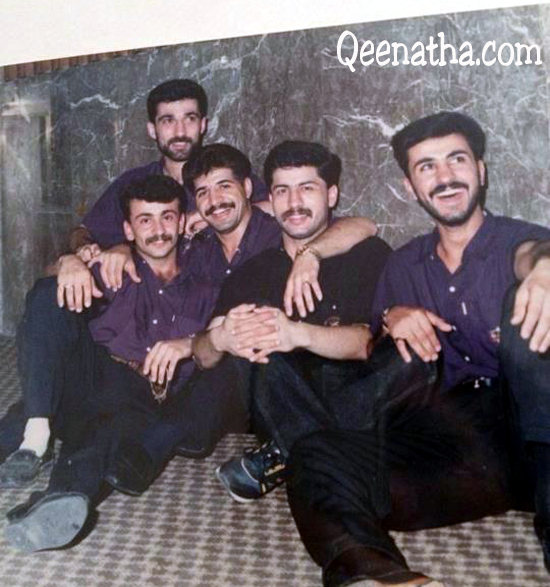 Photo taken in 1989
Meikel Michael: Bass
Ashur Sabbo
Warda Khoshaba
Zaya
Samir: Bass
Signal Band 1993-1994

Singer: Enwia
David Canoon: Guitar
william Wassim: Drums
Martin: Orgen
Jalil: Bass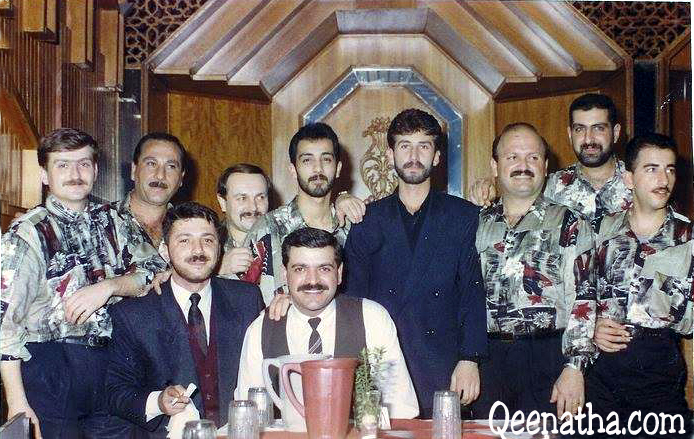 Signal band at Damor Club, Baghdad 1993 -1994
cover song by Signal band's singer Anweya Khamo in Iraq 1994
I would like to thank the few contributors to this article:
William Kanoon cheery, Frank Bright, James JT, Ogin Bet Samo, Mazen E. Adam, Ogin Eramia Shamoon, Osama Heewiband.

https://www.qeenatha.com/blog/wp-content/uploads/2018/07/z1.jpg
426
600
Moneer Cherie
https://qeenatha.com/blog/wp-content/uploads/2016/03/qeenatha_logo-150x150.png
Moneer Cherie
2018-07-18 09:48:21
2022-11-08 06:21:06
Assyrian Bands in Iraq ذكريات الفرق الاشورية في العراق