A Voice From The Eighties Echoes In 'Ghda Gashaqta' – Tamras Tamras Meets His Fans at Mid-Age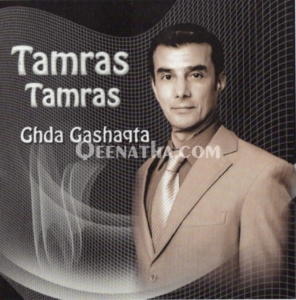 The year 2017 left many of us on a good note and a compilation of eight all original tracks written by some very well-known lyricists and a few new comers who graced the Assyrian pop music industry in this clever selection of dance, national and ballads.
Growing up in the mid-eighties, the rising Assyrian community in Chicago anticipated summer picnics that gathered families and young lovers hoping to fill the next generation of Assyrian nests. We were sure that no opportunity would be missed from meeting friends to singing along every Assyrian tune.
Among those who made center stage in Assyrian music was a unique voice that made its signature very early on alongside some A-listers, a young man from Modesto (California) who became an instant friend and a teenage heartthrob to many – Mr. Tamras Tamras who first debuted in social gatherings and who was also featured in Miss Linda George's "Taliboota" song from her "Melodies from Northern of My Country" release, who left no doubt about his singing abilities, but, who also left his fans dancing on a half-tune leaving many wondering why he elected to step aside at the height of his young career. What an impression he must've made that years later, he's welcomed back wirh arms wide open by fans, everywhere.
Within these beautiful melodie, all featured in "garshuni" on the album's cover, "Tamer & Lazar," penned by Rommel David, a song about the Assyrian village "Abu Tina," (Jilu Laita) in Khabour (Syria) perhaps spoke the most to me. A humble and very cultured village I was blessed to visit nearly a decade ago during "Shara D'Mar Shimon" hosted by the Younan family. More precise, when I inquired, "Tamer is Lazar's father who used to play 'zurna,' while Lazar played 'dahola.'" Adding, it was said that villagers from afar would begin to tap and dance to the beat of Tamer & Lazar. I am especially proud that despite the demise of uprooting that was brought upon this village in 2013, that it's not gone forgotten, but made the Assyrian music pages.
This self-produced album was recorded at Small Room Studio, mastered by Damon for World Replication Group, photographed by Gilbert De-Berowley and designed by Youbert Lazar.
To learn more, visit the artist's Facebook page. For booking information, contact Mr. Tamras by phone (209) 204-8600 or e-mail Tamras1@aol.com.
This article is dedicated to the Assyrians of Khabour whose legacy was halted after exactly eighty years after their re-establishment in Syria following their exodus from Iraq after the Simmel Massacre of 1933.
Written by: Helen Talia, MBA, CPA, FCC (Chicago, Phoenix & New York)
June 3, 2018
To reproduce or republish any parts of this article, please contact Helen Talia. Copyright © 2018-2028 by Helen Talia. All rights reserved.