Born in the birth place of civilization, the land that gave humanity; culture, literature, science and music. A family of five brothers born in Beth-Nahrain, modern day Iraq. Nova Menco: The international renowned five Assyrian brothers flamenco Band, based now in San Diego. This Assyrian family of musicians with their modern flamenco style fuses together Jazz, Pop, and ancient Byzantine echoes of Mesopotamia to Sevilla, Lisbon to Ibiza forming a unique blend of Jazz and soft Mediterranean grooves. Their style is similar to the Gipsy Kings.
So far releasing four albums, one released in Spain, and three in US, their Debut album was self titled "Nova Manco" (10 tracks, unknown date), then came: Gypsy Fusion 1997 (12 tracks which landed in the 1998 billboard charts), Flight to Paradise 1998 (12 tracks) both albums self-produced for Botanie Music & dedicated to their parents Mari and Paulus a fourth album released in 2002 titled Fortune Teller, but this time with only three original members.
Musicians (original Band):
Edmon: Guitar
Samoel: Guitar
Nadro: Lead Guitar
Giovanni: Drum & Percussion
Salo: Bass Guitar, Keyboards & Percussion
(Inc. a nephew: Gabriel)
They moved to San Diego in 1995, the brothers dubbed themselves NovaMenco, and set up shop to record and play across the United States and the world. With their flamenco guitars flourishing on stage, NovaMenco craft an eclectic mix of tunes harboring a growing reputation for a crowd-pleasing show. Ever since NovaMenco's album landed in the 1998 billboard charts, NovaMenco has continued the innovations in Modern flamenco. Their unique fusion of flamenco music has enchanted audiences everywhere. And with the addition of their nephew Gabriel, NovaMenco sounds richer and fuller than ever.
Every CD of NovaMenco is a real life experience and travels around the world. The music of NovaMenco is an attention-getting production with melodies said to evoke an air of distant Mediterranean lands with rhythms that exude feelings of liberation from this earthly existence.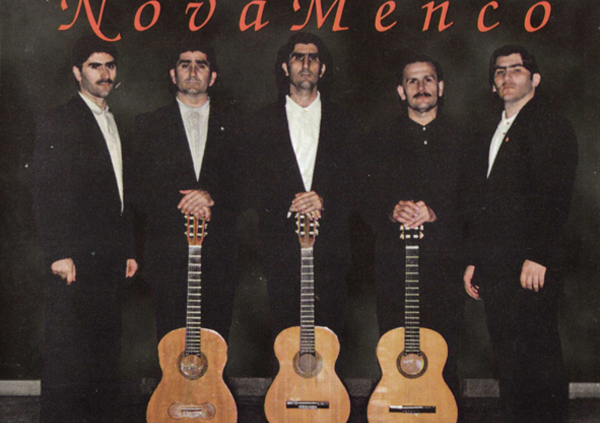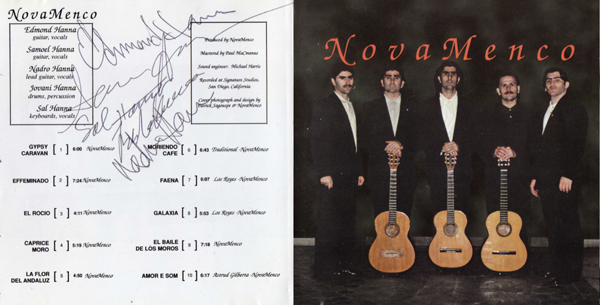 Nova Menco, release date (unknown),
copy of the hard-to-find debut self titled album, (autographed by all five members). T#5
Track Listings
1 Gypsy Caravan
2 Effeminado
3 El Rocio
4 Caprice Moro
5 La Flor Del Andaluz
6 Moriendo Cafe
7 Faena
8 Galaxiz
9 El Baile De Los Moros
10 Amor E Som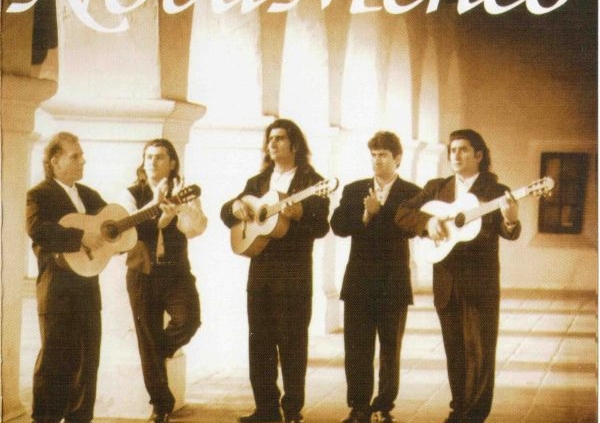 Gypsy Fusion: Landed in the 1998 billboard charts, for 4 weeks at #21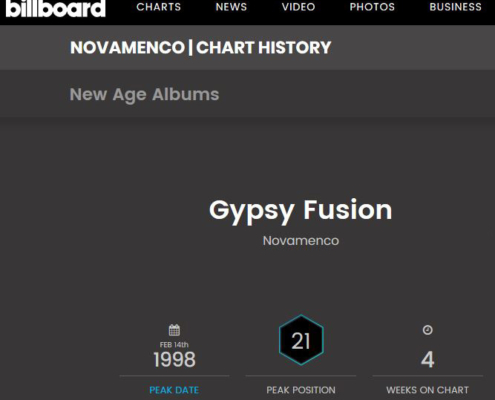 Track Listings
1 Mediterranean Breeze
2 Tigris Palace
3 Spring in Toledo
4 Gypsy Wedding
5 Sahara
6 Alba
7 Lorca
8 Gypsy Fusion
9 El Rio
10 Emotions
11 Journey Intro
12 Journey
#2-Tigris Palace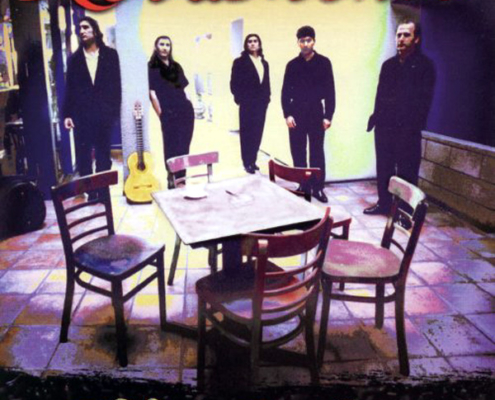 Flight to Paradise, released in 1998
Track Listings
1 Flight to Paradise
2 Alligator Alley (played on smooth jazz stations across the USA)
3 Constantinople
4 Silent Kiss
5 When the Dead Come Alive
6 Mood for Love
7 Reckless Dance
8 Purple Meadows
9 Back to San Francisco
10 Remembering Marta
11 At Five in the Afternoon
12 Close to the Edge
#4-Silent Kiss
In 1999 two brothers left the band and founded another band named (Nadro John), while three remained and released another album titled "Fortune Teller in 2002 under the original band name "Nova Menco".
Fortune Teller, released in 2002
Track Listings
1. Woman Of The Palace
2. Let's Jazz Flamenco
3. Adriana
4. Half Moon
5. Missing You
6. Under The Olive Tree
7. Mesopotamia
8. Byzantine Woman
9. French Quarter
10. Nights In Sevilla
11. Nostalgia
12. Fortune Teller
Nadro John
The two brothers (Nadro & Giovanni) formed a new band called "Nadro John" based in Los Angeles USA, and so far released two solo albums, one in 1999 titled "Escape to Venice", and the second in 2009 titled "Mediterranean Holiday".
A fusion of Flamenco Jazz and Rumba, Nadro John combines the spirit and energy that spans from California to Italy, Montreal to Madrid. Discover the music and magic of Nadro John.
Track titled "When Elephants Fly", from their "Escape to Venice", album.
https://www.qeenatha.com/blog/wp-content/uploads/2018/05/z23-e1527261720807.jpg
350
724
Moneer Cherie
https://qeenatha.com/blog/wp-content/uploads/2016/03/qeenatha_logo-150x150.png
Moneer Cherie
2018-05-25 15:25:20
2018-06-03 04:59:47
NovaMenco: The Assyrian Guitar Brothers